Springfield, Clark County – 2011 Ohio's Most Endangered Historic Sites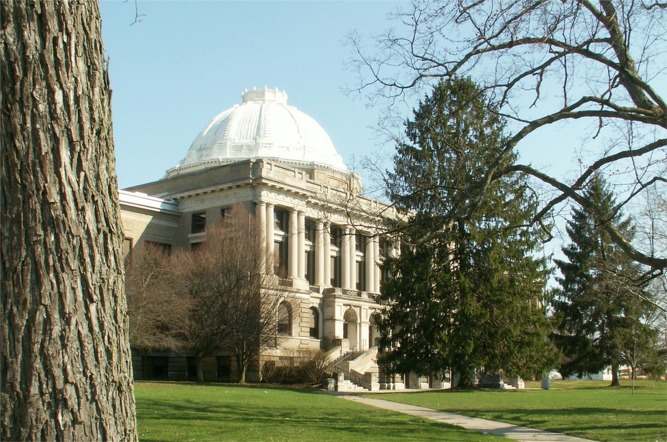 When constructed in 1911, this building was simply known as "Springfield High School." It served as the city's only high school until the 1960s, when a boom in development and population resulted in the construction of Springfield North High School.
Under an Ohio School Facilities Commission building program, the two high schools have re-combined as one — but using neither of the original buildings. The newly-constructed Springfield High School opened for classes for the 2008-2009 school year.
South was not the typical high school built in early 20th century Ohio. The building is said to have been modeled on the United States Capitol, and the building's dome is reminiscent of the Capitol's original, pre-Civil War dome. The tree-lined grounds are still largely intact, giving the building an imposing setting, just a few blocks south of downtown. South High School anchors the close-in neighborhoods that surround it, particularly the outstanding South Fountain Avenue Historic District.
There had not been a great deal of local public discussion concerning the future of this landmark building when this property was last on the List of Ohio's Most Endangered Historic Sites, and that absence continues. It was suggested as a possible new home for the community's Central Catholic High School, but the local Catholic school officials deemed it to be too large of a project for them to tackle.
South High School reflects the difficult situation faced by Ohio communities that have participated in the OSFC program, and have replaced outstanding buildings that have not only served taxpayers well for decades, but are also well constructed and able to be used for decades to come. While money is available for demolition, communities would be well-served by allowing some of those funds to go instead to projects that would keep these buildings in productive use, and place many of them on the property tax rolls.
Springfield is formerly Preservation Ohio's current hometown, and our organization strongly supports any efforts to preserve this magnificent building for future generations.