Greenhills Historic District
Greenhills, Hamilton County – 2011 Ohio's Most Endangered Historic Sites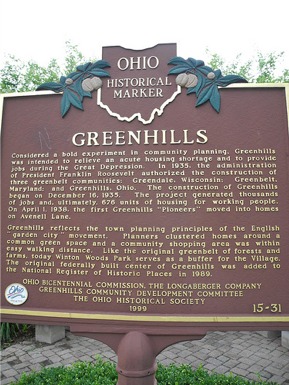 Greenhills is one of three Planned Greenbelt towns built as demonstration projects in the 1930s by the Resettlement Administration, a New Deal agency. Designed using the English "Garden City" model, Greenhills is a distinctive predecessor of today's New Urbanism movement. An exemplar "walking community," it has maintained the original forested Greenbelt parkland and pedestrian pathway system lining its lush pocket parks nestled within residential blocks. The much revered Historic District of Greenhills is listed as a National Historic Planning Landmark.
Greenhills' historic residential units offer a variety of co-mingled housing types executed in streamlined Colonial Revival, Moderne, and International architectural styles. One of the country's first fully electrified communities, Greenhills contacts an Olympic size swimming pool complex and Ohio's first co-op mall shopping center. These innovative amenities highlighted a community offering affordable housing to the Depression Era's recovering middle class through a unique Federal co-op rental program. The centrally-located Greenhils Community Building, once home to the community's schools, library, and churches, showcases an irreplaceable collection of original New Deal artwork.
Since 1999, the Greenhills government has acquired residential properties in three specific neighborhoods of the Historic District. Some residents become concerned when, under the auspice of a redevelopment program, absent of any guiding preservation-based documentation, the local government attempted to expand the community's tax base through a process of gentrification. Federal funds which would have triggered preservation oversight have not been used, and local residents claimed that Greenhills officials rejected advice and assistance extended by noteworthy preservation agencies and consultants of local, state and national standing.
As of early 2008, officials had purchased 135 dwellings, 20% of the Historic District's original 676 residential units. Of the unique building types found only in the targeted neighborhoods, 52 units had been razed. Insensitive infill, modern renditions of 1900s Bungalow and American Foursquares, replaced the forward-thinking International and Moderne Styles of the 1938 originals. New stand-alone single family houses were packed into the footprints of the original historic stacked apartments and townhouses.
When originally listed, the nomination of the Greenhills Historic District received the support of the following individuals and organizations:
• Ohio Historic Preservation Office
• Cincinnati Preservation Association
• Dr. Patrick Snadon, Associate Professor, School of Architecture, University of Cincinnati
• Barba Havekost, long-time resident
• Friends of the Greenbelt Museum Board of Trustees
• Kelly Quinn, Assistant Professor, American Studies, Miami University
• National New Deal Preservation Association, Santa Fe, New Mexico
• Roxanne Qualls, Member, City Council, City of Cincinnati
Unfortunately, little has changed in Greenhills, although groups, including the Cincinnati Preservation Association, are continuing to promote its preservation. In June, 2011 a University of Cincinnati School of Architecture and Interior Design student exhibition showcased designs for new and rehabilitated housing there. A number of Village-owned buildings continue to deteriorate and there is no viable plan for their reuse, however. Without a firm plan for the future, the properties remain threatened and on the List of Ohio's Most Endangered Historic Sites.
Links for more information:
Outstanding set of Greenhills photographs available for use through a Creative Commons License
Photo: tracktwentynine/Creative Commons License